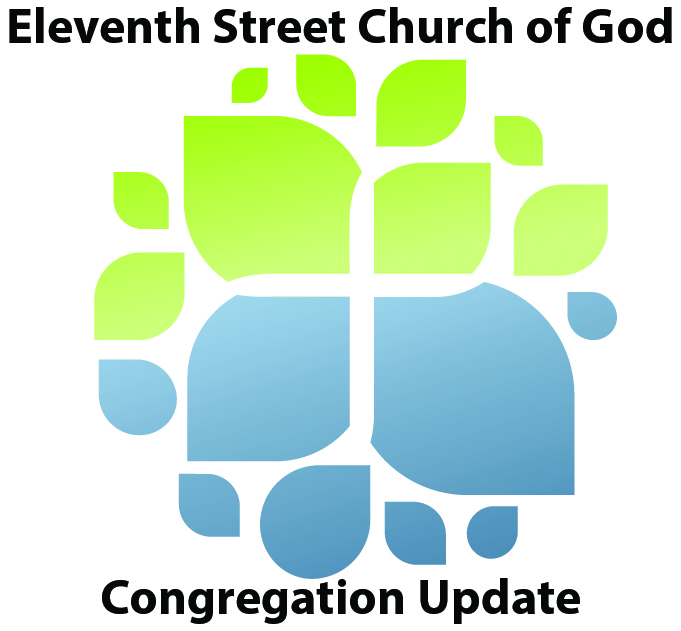 March 24, 2020
Dear Church Congregation,
Due to the stay at home Ohio Order I will not be in the church office but working from home as of now until April 6th. I will continue to send out information on the church Flocknote, Facebook and Website. Let me know if you have a need or prayer request. Feel free to call or email me, Randy or any of our Church Elders with questions.(Reference your Church Directory) I can also listen to voicemails at the church remotly from at home. If you leave a message please include your name and contact info. I will also be regularly checking the church email during my regular office hours. Thank you!
Jessica Hunt
Eleventh Street Church of God
March 17, 2020
Dear Church family,
The Board of Elders met on Saturday, March 14th and will continue to meet throughout this health crisis in our nation. Our first concern is to do our best to make decisions that will protect our congregation's health and wellbeing. We love you and care about each of you that call the Eleventh Street Church of God your family. We are very fortunate to have several Elders that are in the health profession which helps us to understand and discern all the communications that are being dispersed. Please communicate to us any concerns or needs that you may have during this challenging time in our nation. Also be sensitive and aware of the people around you that may need a little extra help and support at this time. (things like food, medicine, childcare, financial needs, etc.). Most of us have never experienced anything like this in our entire life so we are trying to make wise decisions for the health and safety of our entire church family as we travel this journey together. In my sermon series based on the book of Nehemiah, Nehemiah saw that fear was beginning to impact the everyday life of the people as they rebuilt the walls of Jerusalem. However, in Nehemiah 8:10 he writes, "the joy of the Lord is your strength" …not the joy of your circumstances. Refuse to allow fear of anything (disease, illness, war, spiders, etc.) rob you of the joy of the LORD. It's the Lord who fills you with His joy, His victory, so you don't have to lie shriveled up in the fetal position, defeated, dejected in a corner!
Paul wrote in Philippians 4:4-8
4 Rejoice in the Lord always. I will say it again: Rejoice! 5 Let your gentleness be evident to all. The Lord is near. 6 Do not be anxious about anything, but in everything, by prayer and petition, with thanksgiving, present your requests to God. 7 And the peace of God, which transcends all understanding, will guard your hearts and your minds in Christ Jesus. In this life we're going to face problems and pain and there's going to be situations that we worry about and there's going to be situations that leave us weary. But good grief remember that Paul wrote these words from within prison walls! And by the way Paul concluded this passage with verse 13. "I can do all things through Christ who gives me strength." You can too! As Corrie Ten Boom once said, "Worry doesn't empty tomorrow of its sorrows, it empties today of its strength." If you don't nourish your spirit, your heart will grow anxious, cold and hard. So here is a suggestion. Use this precarious time to read and study God's Word, to earnestly pray and to worship. Share and teach your children the great truths, principles and stories of the Bible. Don't absorb all your time with the news. Be informed but not overwhelmed. Pastoral suggestion: for every program of the news that you expose yourself to give equal time to reading the Bible, listening to worship music and counting your many blessings…see what God has done and what He will do. 8 Finally, brothers, whatever is true, whatever is noble, whatever is right, whatever is pure, whatever is lovely, whatever is admirable — if anything is excellent or praiseworthy — think about such things. (Philippians 4:8)
Communication of Important Information:
Please understand that this is a new journey for all of us. We are working to put in place good communication practices even as I write this letter. The following are the current methods of communication that we are using and putting into place to communicate information.
Phone:
Call the church office for information at (330) 453-8568 during regular office hours. (M-F 8:00-noon)
Call Pastor Shafer at (330)327-4227.
Finally, you may also call Elders for current information and needs. (Check your directory)
Flocknote: (Texting, email and Phone program of the church)
If you have not signed up for Flocknote, please call the church office and Jessica will be happy to get you connected to this communication tool. This is our easiest and preferred method of communication.
Email:
The website will include not only updates of information but video of each week's worship service while we are unable to meet. I am continuing my sermon series on the book of Jonah.
Currently we have cancelled worship (in person) through March 29th.
Bible Study:
It is my hope that beginning next week we will conduct my Bible Study series, Go Fish, through an interactive web conferencing platform that will allow you to join through your computer or by phone. More info on that will come later.
Worship:
All Worship services are available at our website at cantonchog.org
If you prefer DVD you may contact the church office and we would be happy to mail a copy.
Giving: Tithes, offerings, Faith Promise Missions and Building Fund
This is an important time to continue with Faithful support of the church and its ministries. Expenses and ministries continue even when we are not physically present. It is of vital importance that when this is all over, we will be in a strong position to move forward with our ministry and relocation efforts. There are several ways to give.
Mail: 3026 11th Street SW., Canton, Ohio 44710
Deliver your envelop to the office during regular office hours. (M-F 8:00 a.m. – noon)
Online through the church website by PayPal or credit card. cantonchog.org
Together in His service,
Randy Shafer, Pastor